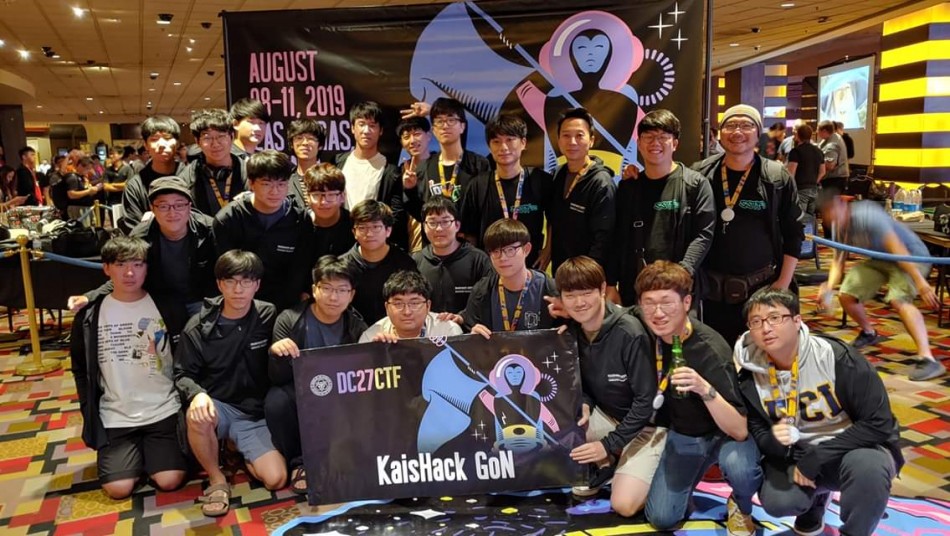 KAIST team "KaisHack GoN" (led by Prof. Sang-Kil Cha in GSIS) ranked 12th in final stage at DEFCON 2019, the world's highest level of hacking defense competition held in Las Vegas, USA.
The 51-hours final round from 10 am on August 9 to 1 am on August 11 was consisted of Attack, Defense, and King of the Hill problem section. KaisHack GoN showed a quick response to problem situations and got a high score in the King of the Hill field and Defense field.
The KaisHack GoN team, which was able to participate in the finals with the active support of the Graduate School of Information Security, is consisted of KAIST undergraduate students and graduate student of Graduate School of Information Security and the team was the only single university team in Korea. Also, the results of this tournament are more noticeable because they showed the strength of KAIST, ranking 12th in the situation where most of the teams played in alliance with strong power.
Name and affiliation of the participants
Jonghwan Kim, advised by Prof. Brent Byunghoon Kang in Graduate School of Information Security
Byounghak Lee, advised by Prof. Jooyoung Lee in Graduate School of Information Security
Daejoon Kim, advised by Prof. Sooel Son in Graduate School of Information Security
Soomin Kim, Dohyeok Kim, Kangsoo Kim, advised by Prof. Sang-Kil Cha in Graduate School of Information Security
Kyungwon Kim, advised by Prof. Seokyoung Ryu in School of Computing
Changhoon Lee Sangseop Lee, advised by Prof. Yongdae Kim in the Electrical Engineering department
Jaewook Kim, Sangheon Kim, Minyep Choi, Seungki Min, Seungjin Baek, Dohoon Im, Changwan Park, Dongock Kim, Seunghyeon Lee, Woosun Song, Hyeonho Lee, Seungjin Yoo, KAIST undergraduate students in GON club