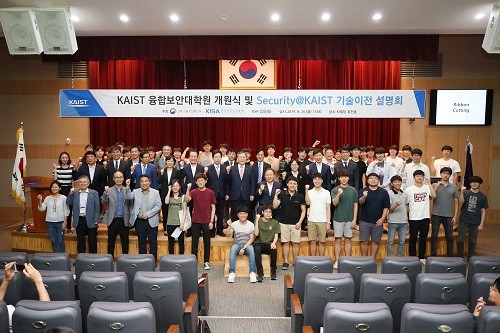 Our university established the first convergence security graduate school specialized in a smart city and held the opening ceremony at the Daejeon campus on the afternoon of 26th.
More than 100 people attended the event, including Lee Min-min, Democratic National Assembly lawmaker, Shin-Hyun Barun Mirae Party lawmaker, Jang Seok-young, Director of Information and Communication Policy, Ministry of Science and ICT, Kim Seok-hwan, Director of Korea Internet Promotion Agency, and industrial consortium executives.
The Graduate School of Convergence Security was selected together with Korea University and Chonnam National University in March for the 'Competitive Security Project for Convergence Security in Regional Strategy Industry' held by the Ministry of Science and ICT.
From this year, the graduate school invested KRW 4 billion for up to 6 years to secure research and education capacity to carry out urban scale innovation research through annual evaluation and planned to lay the foundation for fostering advanced convergence security human resources leading the 4th industrial revolution and ICT convergence industry.
The opening ceremony was held along with a technology transfer conference introducing the latest technologies presented in 2019 at the world's best security conference.
Prof. Insik Shin presented 'Race Bug Detection through Fuzzing.' Prof. Seung-Won Shin and Prof. Yongdae Kim dealt with 'Data-Plane extensions for SDN Security Service' and 'Automatic Analysis of Cellular Networks' respectively.
In the future, the Graduate School of Convergence Security will build the entire university campus as a smart city testbed. The purpose of this study is to prepare a practice environment that can be applied immediately by studying prevention and response technologies for various possible security threats.
Also, the campus built as a testbed will be used as a regional base research facility to form 'Security @ KAIST', an industry consortium involving 16 leading companies and organizations such as Naver, Daejeon, and Sejong.
Regular seminars, technical briefings, and special lectures will be held, and a collaborative project that addresses the security demands and practical challenges of industrial sites required for the smart city life cycle will be presented to suggest a new model of convergence security industry-academia cooperation.
Insik Shin, senior professor of convergence security graduate school, emphasized that "Smart City is a representative result of the convergence of ICT technology that is realized based on various advanced ICT technologies such as information and communication infrastructure, big data, artificial intelligence, and communication."
Professor Shin said, "With the opening of KAIST Graduate School of Convergence Security, Korea will be able to secure competitiveness to lead the convergence security R&D field and contribute to fostering talented people and creating jobs.